The accommodation capacities of Ohrid are high, there are plenty of high quality hotels and motels in the town itself and along the Ohrid coast. Thus, no wonder that this town with its surroundings is included in the offers of numerous travel agencies
With a suitcase worldwide
Ohrid, a medieval town which got its name by the fortress constructed on a high rock - hrid, has got a turbulent history. First, it was the antique town Lihnid, then a shortcut from Rome to the East Empire, then the center of the Samuilo Empire, the cultural capital of Slavic people during the Clement and Naum Ohridski, the students of Ĉirilo and Metodije, during the Turk era an important defense point at the old road from the Adria to Constantinople . Many monuments at every step remind of the past times. The St. John the Theologian Church - Kaneo, the town symbol and the most frequent motif on the postcards of this region. The St. Sofia Church, the Churches of St. Clement and the Holy Mary of the Hospital, the Museum of Slavic Literacy, the Icon Gallery, the Orthodox Monastery - St. Naum, constructed in 900, on a high rock above the coast, the Samuilo Fortress, the Colosseum from the Roman era, the White Mosque, constructed in the 16th century by Belgrade Vizier Ali - Pasha as its legacy, the eight centuries old tree Chiinar - the symbol of Ohrid.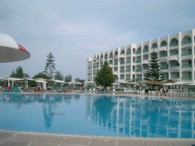 | | |
| --- | --- |
| | |
The Ohrid Lake, two thirds of which belong to Macedonia and one to Albania, tells its story. It appeared ten million years ago and by its age it is similar to the Baikal and Caspian Lakes. Its area is almost 390 sq. m. and it lies on the height of 695 meters above the sea level. It is surrounded by mountains, it is extremely translucent and clear from many rivers and wells filling it with water, so translucent that, as they say there, "the soul may take its reflection in it".
It has got extremely well arranged beeches, ideal for bathing (in summer, the water reaches even the temperature of 25 C), all the way to Struga in the North-West and St. Naum in the South and the section to the Prespansko Lake is under the state protection as a National Park.
The Ohrid Lake is also called a museum of live fossils, since endemic and relict animal and plant species live in it, such as the Ohrid Trout and the eel. These are extraordinary gastronomic specialties enjoyed by the tourists in some of the numerous restaurants, under the music and legend of the beautiful girl Biljana who 'whitens the canvas on the wells, looking at a handsome guy'. If they previously also walked in the Bazaar and bought pearls, unique in the world, the pleasure is complete. These pearls are produced from the tiny flake of the scary fish, living in the lake and the sections of the river the Black Drim, by a centuries old methodology and a recipe transferred in a family to many generations.